Coffee Talk
Espressoworkz Auckland Showroom
Our national SAECO repair centre is located at:
100 Mt Eden Road, Auckland 09 623 0063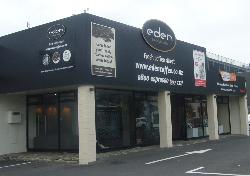 In July 2009, Espressoworkz opened new premises at 100 Mt Eden Road, Auckland.

The building is a combination office, showroom, repair workshop and warehouse, so it meets ALL the needs of SAECO customers all under one roof.

So if you're in the neighborhood please drop by and we can show you the latest in SAECOs world leading Automatic Equipment for the home and office, coffee accessories and cleaning products, or if you need stocks of freshly roasted coffee supplies!

See the Crew at Espressoworkz and Eden Coffee as on TV1 news!

What our customers say...
Mr Kelly Farrimond, MD of Farrimond Advertising says:

"Providing good coffee is one way we can show both our staff and customers how much we value them, thank you Espressoworkz"

Farrimond's stylish office kitchen

Mr Eugene De Villiers, MD of The Extra Mile Company says:

"The coffee is excellent and Espressoworkz service standards are impeccable, I recommend them highly"

The Extra Mile team

Mr Matt Keneally MD of Axon Computertime says:

"Great machine, great service and great coffee, Espressoworkz has never let us down"

Axon's Matt Keneally
What good, fresh coffee in your office means
.
The convenience of fresh espresso in the office kitchen means that you do not have to go out of the office to get a quality cup of coffee. You can enjoy the luxury of fresh espresso coffee in your own private barista.
Many new offices are being designed with a coffee machine as an integral part of the new office kitchen. In many ways fresh espresso coffee from an automatic coffee machine reflects the growing acceptance of the standard of coffee that many office workers expect today, and are willing to go out and pay for.
The smell and aroma of espresso coffee can create a convivial atmosphere of relaxation and the feelings that the coffee aroma creates with feelings of being away from the workplace and relaxing. This creates an area where busy office workers can get away from the office without actually having to go 'out of the office'.
While it is true that office espresso is far cheaper than buying coffee at a coffee shop, it is also a very effective way of providing an incentive for staff or a reward for work that they have done on a particular project.
What the media have been saying.
Italian espresso machines the new toy for smart executives
- National Business Review - As general manager of technology company gen-i, Martin Howard hated the office coffee and used to sneak out to get a decent cup. So when he was looking for his next career move he thought about coffee and came up with Espressoworkz.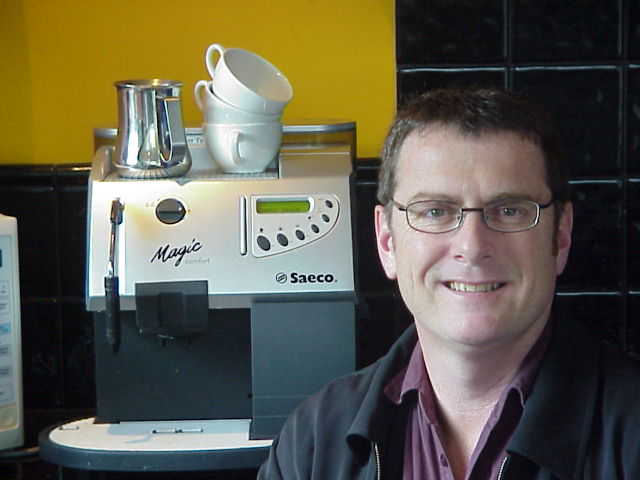 Espressoworkz rents and sells automatic espresso machines to caffeine starved offices. The machines are the Italian brand Saeco and cost $2,000-$3,000 to buy outright depending on the "bells and whistles" or as preferred by most businesses you can rent them for a monthly fee. Unlike other espresso machines, which need to be driven by a trained barrista, these machines do everything from whoa to go, grinding the beans and brewing the coffee at the push of a button.
OFFICE JAVA: Martin Howard with a Saeco
Mr Howard said since he set up the company, four months ago business had been better than he had hoped, signing up corporate customers including graphic design houses and technology companies: "People are into good coffee."
Mr Howard said in technology companies people who sat in front of their computer screen all day were converts to the power of caffeine. "Some drink so much they use half gallon cups, the insulated ones so it keeps the coffee warm."
Having a constant supply of top quality coffee could even be a productivity booster: "People talk faster, work faster and write faster" Mr Howard said the "think drink"- the cup of coffee quaffed while thinking over an issue - could happen in the office, which was much quicker than going out to a cafe'. "By the time you get there and back it takes half an hour."
Mr Howard said the advantage of having an automatic espresso machine was that it made consistently good coffee. "With an automatic machine you don't get inconsistency, coffee being at the wrong temperature, or that you didn't put enough coffee in or didn't push it down firmly enough," Mr Howard said.
Fair Trade

The world coffee market at the moment is experiencing an oversupply of cheap, low quality coffee, notably from Vietnam and India most of which is used in either instants or cheap "house" brands. As a consequence the price of green beans has been forced down. This benefits the large corporations who control a big percentage of the worlds bulk market.

The beans that we buy are at the very top end of the market, seldom used by the corporations. Our brokers buy at auction which tends to drive the price up returning a greater amount to the farmers. Our brief to the brokers is to look for quality with less emphasis on price. To help the farmers please support coffee roasted in New Zealand by New Zealand owned companies who have similar boutique ideals to ourselves.
Changes in the New Zealand Coffee Market
The coffee market in NZ is undergoing a transformation. You will have seen the explosion of gourmet and specialty coffee shops, coffee houses, espresso booths and American import coffee houses.

Coffee consumers are now demanding higher quality beverages and are no longer content with instant coffee for special occasions, let alone everyday drinking. Our research indicates that instant coffee still has the lions share of the local market.

The fresh coffee bean market is growing. We define this market as green coffee beans which are roasted in NZ and delivered to consumers within 5 days for brewing within one month.

It is this change in palette and preference which has changed the marketing plans for many companies, including ours. Look at the proliferation of coffee houses in CBD areas of NZ. These operators need to ask themselves if demand in the market for espresso coffee is growing fast
enough to support all of the new entrants and their expansion.

Like all markets, each company has to clearly identify the group of customers to whom it will appeal and service that market 110%. In this regard consider coffee outlets in terms of the quality, variety and price of the products they sell. What will make people keep coming back?
Will people go for an in-house solution where they can make the same coffee in their office for about 40 cents verses $3.00 to buy. Growth of the office espresso market ie Saeco espresso machines from EspressoWorkz in offices will put downward pressure on the retail price of a cappuccino.